The Showa 690 Oil Resistant Glove sets the standard in protective gloves. The long sleeve glove is intended for use in the automotive, industrial/metallurgy and marine industries.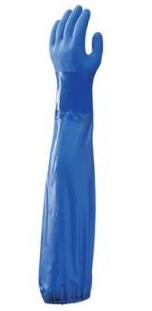 Features of the Showa 690 Glove
Fully coated, extra coating over entire hand
Extended bonded sleeve, elasticated border
Rough finish over entire surface
Antibacterial and anti-odour treatment
Special hydrocarbon treatment
Eyelet for ventilation and hanging
Anatomical shape
Seamless knit
Benefits of the Showa 690 Glove:
A flexible, soft glove that absorbs perspiration, for ultra comfortable extended wear and with good mechanical resistance.
Seals and protects the hand against chemicals while remaining flexible
Impermeable for working in damp or greasy environments, enabling you to grip objects securely
Sleeve stays correctly adjusted
Surface provides tactile feel and better grip
Greater hygiene
Easy hang storage
Designed for easy movement and continuous wear
No irritation by seams in contact with the skin
Extended protection for the entire arm
 Contact Liam at 021-463-8727 or Email: liam@finerfilters.com for more information.